Blaupunkt Car Air Purifier AP 3.0 AIRPURE (100% original)
₹8290
Blaupunkt AP 3.0 AIRPURE is designed to deliver clean air within the cabin of your vehicle. Fight the pollution and dust with this air purifier.
Description
Blaupunkt Car Air Purifier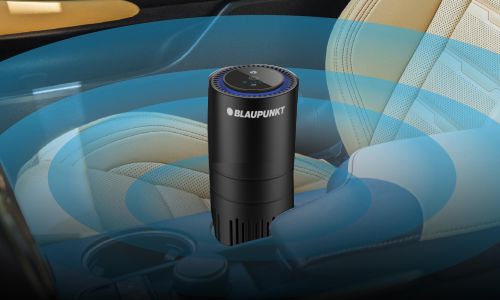 Blaupunkt AP 3.0 AIR PURE is designed to deliver clean air within the cabin of your vehicle. Designed & equipped with a Triple-layer filtration system, AP 3.0 can deliver fresh air while removing 99% of hazardous particles in the air around you. With the simple touch control panel and the convenience to Plug n Play in any small confined space, the result is amazing. It is very quiet & maintains a low decibel level across all fan speeds. This device's design & functionality delivers CLEAN AIR to those who may suffer from allergies, asthma and other respiratory ailments. It is highly recommended for use whenever there is a HAZE overhang in the atmosphere.

This device is equipped with a Turbine fans & these move a lot more air in small spaces when compared to a conventional fan blade design.
Stage 1: Pre-Filter
Stage 2: HEPA Filter H11
Stage 3: Activated Carbon Filter
AP 3.0 AIR PURE Car Air Purifiers feature a powerful, efficient and fast-acting air filtration system. The unique 3-stage SelectFilter Plus removes up to 125 harmful pollutants and exhaust gases, through its HEPA and HESA layers. Independently certified by Airmid Health group, the SelectFilter Plus technology also removes up to 90% of airborne pollen allergens.

HEPA (High-Efficiency Particulate Air Filter H11) is designed to work in conjunction with a pre-filter to extend the life to the filter.HEPA Class 11 (glass fibre paper) is designed to have a 95% filtration rate. It is designed to trap 99.9% of fine particles (as small as 0.3 Xm) such as airborne allergens that comprises microorganisms, bacteria, viruses and pollen normally present in the air.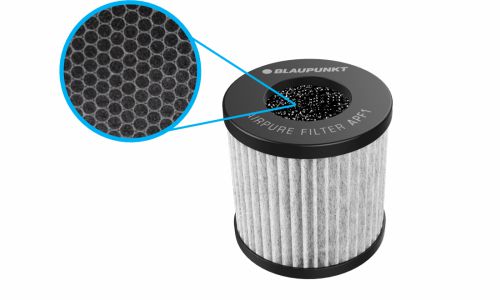 The activated carbon layer is the final filter for the air purification process. This carbon filter is comprised of small pieces of carbon in the form of a powdered block that traps hazardous compounds such as dust mites, smoke, pet danders and moulds.Odours and Volatile Organic Compounds (VOC) that are present in the atmosphere such as polymers, foam, upholstery, adhesive, carpet, coating and composite will also be removed through the activated carbon filters, leaving behind fresh and cleaner air to breathe.
AP 3.0 AIR PURE is equipped with a SMART FAN with an AIR QUALITY sensor that enables the device to automatically adjust fan speed based on the air quality in the cabin. The visual colour indicator built-in works in conjunction with the fan & vary the speed based on the air quality in the air you are surrounded with through the changing of three colour indicators. Each colour represents different air quality. Another amazing specification is the technological implementation in AP 3.0 AIR PURE that enables automatic change in fan speed based on the air quality.
Blue Indicator (0-50ug/m³)
Good air quality
Starts to operate with low fan speed
Yellow Indicator (51-99ug/m³)
Average air quality
Starts to operate at high fan speed and will maintain until the air quality improves.
Red Indicator (100-999ug/m³)
Poor air quality
Starts to operate at high fan speed and will maintain until the air quality improves.

AP 3.0 comes equipped with a Filter Replacement Reminder located on the top control panel. It is recommended to change the filter every 6 – 7 months (depending on usage) to allow the device to function effectively.

Locate the device in a cupholder and plug – in the provided USB cable to a USB charger (outlet) in your vehicle. It's as simple – no complicated wiring required.

This device is equipped with a 3 layer filtration mechanism to provide maximum air pollution.According to the Environmental Protection Agency (EPA) levels of air pollutants indoors tent to be 2 to 5 times higher than outdoors. Considering that users may spend about 70-80% of their time indoors, this devie does work very effectively in small spaces (car cabins).The filtration mechanism in AP 3.0, work very effectively in removing the most common contaminants that trigger allergies and asthma – dust. pollen, mold, pet dander, tobacco smoke and other airborne chemicals.

AP 3.0 AIRPURE has a touch screen panel that lets you control the device with a single touch. The seamless surface on the AP 3.0 increases the speed of the response based on your touch and enables quick operation of the device.AP 3.0 is so easy to use & comes with an automatic ON / OFF system that turns on the device when car ignition is in ON positon, provided it is connected to a cigarette lighter port that is controlled by the ignition. Besides being easy to use the top touch panel is very intutive and let's you navigate through the functions easily.
Specifications
Purification Method: Primary filter + HEPA11 + Activated carbon filter + plasma 5million / cm3 + UV light
Indicator Display: Filter Replacement Reminder, Auto / Manual Fan Speed
On/OFF: On/OFF Touch Control
Air Quality Testing: TVOC sensor detection
CADR: 7.3m3/h
Maximum Air Volume: 24m3/h
Variable Fan Speed: Max 5500r/min
Noise: <30dB
Rated Voltage: DC 5V1A
Rated Power: <5W
Applicable Space: Up to 10m3
Working Environment: -10°C~+50°C
External Material: Anodised Aviation Grade A luminum
What's in the box?: Air purifier, USB Power Cable, Warranty Card
Warranty & Installation
Blaupunkt provides 1-year warranty with the product
No installation is required for this product. Just plug the USB cable and done!!